Weird times ~ make art!
You have probably guessed that we won't be meeting for the foreseeable future – who knows when. In the meantime, I hope that you are somewhere safe, have enough supplies to get you through, and people you can call on if you need help or support of any kind. Thank heavens for the internet!!
If you are feeling a bit at a loose end then don't forget we have lots of tips and ideas to get you started with designing your games, check out HERE. But if you are finding it hard to focus on anything too complicated, here are a couple of little ideas to take your mind off things.
Rainbow trails & Bear Hunts
One thing that people round my way have been doing is posting little messages in their windows – rainbows to brighten up a passer-by's day, teddy bears for small children to find on their exercise walks, thank-you signs for the refuse collectors and support for the NHS. I have a small cuddly Pikachu stuck in my front window as I couldn't find a bear that would sit on the handle.
This weekend it's time for easter egg hunts so we now have one on display in the front and one on a side window that is on the pavement. Just a little something to stay connected. Even if your house or flat is not on the street, the postie might like to see a little something – why not join the easter egg hunt. My first attempts at drawing an egg shape were definitely rather bottom heavy and looked more like pears but I kept going and now they are (I hope) more egg-like. Have a go! Think of it as being part of an egg-spotting trail game being designed collaboratively by all sorts of people, spreading a little joy. Let's face it, we can make games out of anything.
Art Hope Joy
If you have a printer you could also download and colour this free sheet from the @Art_Hope_Joy_Project Check out their instagram and share yours.
If you don't have a printer, go free-form and copy the words in your own style. Don't forget to tag @grrrlgames if you share anything – we love to see what you are all up to!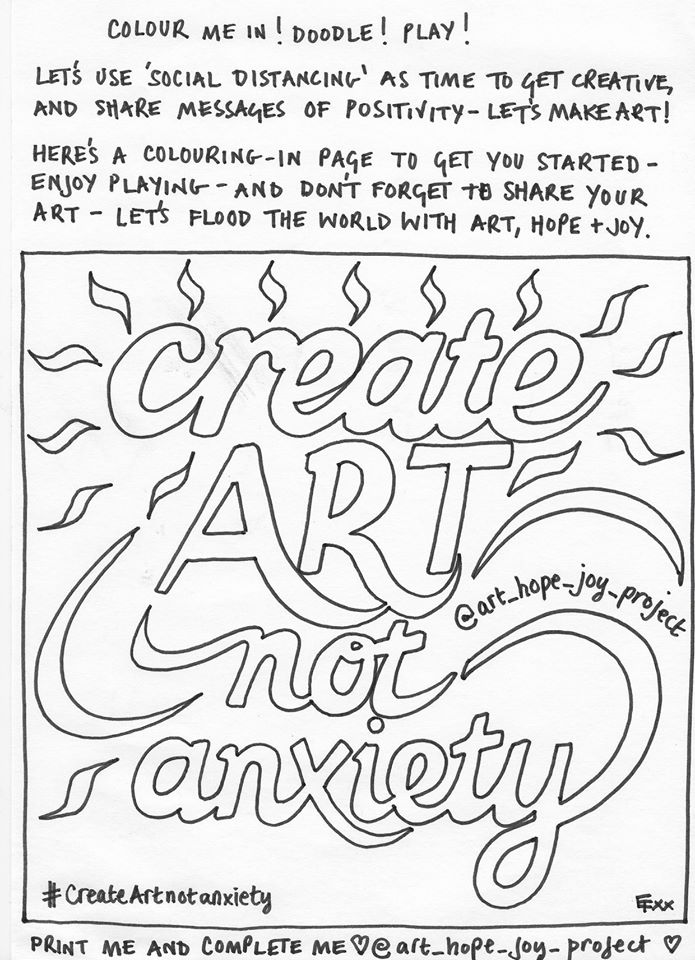 Constance